ARTISTS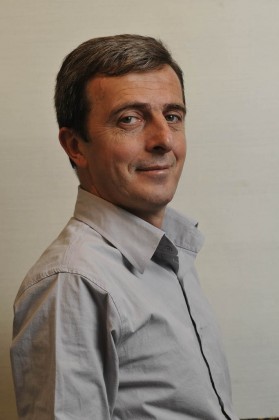 Born 1961 in Qusari, Azerbaijan
Lives and works in Baku, Azerbaijan
He was a founder of the art group "Labyrinth".
| | |
| --- | --- |
| 2002 | worked again for two months in East Timor |
| 2001 | worked for two months in war-torn East Timor. There the artist painted his thematic works, including landscapes and portraits that reflect particularities of the island's nature and inhabitants. He became the first artist working in East Timor to have held a solo exhibition there. |
| since 1988 | Member of the Union of Artists of the USSR and the Union of Artists of Azerbaijan |
| 1981 | graduated from Azimzade State Art College in Baku, Azerbaijan |
Honoured titles and awards
| | |
| --- | --- |
| 2006 | Title "Honorary Artist" of Azerbaijan |
Collections
- State Tretyakov Gallery, Moscow, Russia
- Funen Art Museum, Odense, Denmark
- The Union of Artists of Russia
- The Ministry of Culture of the Russian Federation
- The Ministry of Culture of Azerbaijan
- The Albertina, Vienna, Austria
- Tomsk State Museum, Russia
Alimirzoyev's ethereal canvases remind one of the texture of dreams – gilded, saturated, bright, yet elusive. Even in his still lives, a rather classical and conservative genre, he has retained his signature manner of painting, his stylistic originality. The pastiche of the old masters harmonizes with the fundamental ideas of modern art. This same bridge through time is evoked upon viewing Alimirzoyev's landscapes, with their ghostly worlds, that differ ever so slightly from the real universe.
Other works by him forces the viewer to ponder the depths of mankind's problems.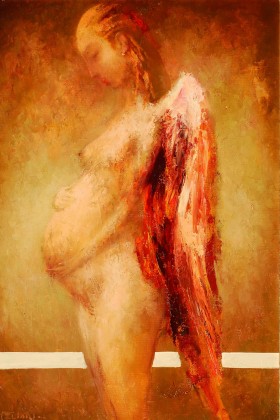 Solo exhibitions
| | |
| --- | --- |
| 2011 | "Art Pearls", exhibition with Van Cleef & Arpels, Modern Art Museum, Baku, Azerbaijan |
| 2008 | QGallery, Baku, Azerbaijan |
| 2001 | QGallery, Baku/ Dili, East Timor |
| 1996 | V. Samedova Exhibition Hall, Union of Artists of Azerbaijan, Baku, Azerbaijan |
Group exhibitions (Selection)
2013
Galerie Berlin-Baku, Berlin Germany
2011
"Harmony", exhibition of Azeri artists, YEOSAMI Cultural Centre, Seoul, South Korea
2008
Galerie Berlin-Baku, Berlin, Germany
2005
"Homme et Femme", Museum Centre, Baku, Azerbaijan
2004
"Modern Art of Azerbaijan", Chamber of Commerce, Washington, D.C., USA
2003
"Grands et Jeunes", Gran-Prix, France International exhibition of a miniature, France
1999
Gornji Milanovac, Serbia
"Eurasian Zone", Art Manege '99', The Manege Central Exhibition Hall, Moscow, Russia
1998
"Contemporary Art of Azerbaijan", World Bank, Washington, D.C., USA
1991
"Exhibition of Young Artist", Inselstrasse-13 Gal­lery, Berlin, Germany
"7+7", Kunsthalle Charlottenburg, Berlin, Germany
Co­penhagen Art Museum, Copenhagen, Denmark
"New Circle'", Kiev, Ukraine
Martin Luther King Library, Washington, D.C., USA
1990
"Exhibition of Avantgarde", Crakow, Poland
"Painting", Beijing, China
"Soviet Art", Seoul, South Korea
1989
"All-Union Exhibition of Art", Central House of Artists, Moscow, Russia
1988
"Modern Art of Azerbaijan", Central House of Artists, Moscow, Russia
>
>