ARTISTS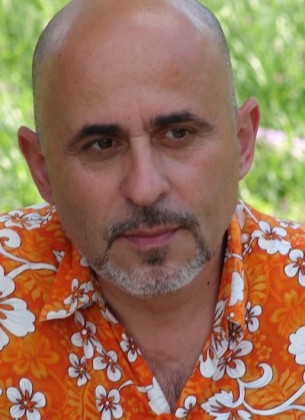 Born 3 January 1962 in Baku, Azerbaijan
Lives & works in Baku, Azerbaijan
| | |
| --- | --- |
| 1997 | member of Union of Artists of Azerbaijan |
| 1990 | List Staff artist of the Art Fund's Industrial Creative Complex |
| 1984 - 1989 | studies at Azerbaijan Pedagogical University, Art Drawing Faculty |
| 1979 - 1981 | studies at Art College №84 |
Honoured titles and awards
| | |
| --- | --- |
| 2012 | 1. place at "Khojaly" Competitive Exhibition, V.Samedova Art Salon, Baku, Azerbaijan |
Collections
- National Art Museum, Baku, Azerbaijan
- Ethnography Museum, Cholpon-ata, Kyrgyzstan
- Simurg Gallery, Australia
- Private collections in Azerbaijan, Turkey, Iran, Russia, Sweden, England, Germany, USA
Since his early childhood Eldar was, grewing up with his parents, who were ceramist & sculptor, in the true art atmosphere. Art for him always was and still remains an objective reality, an integral part of his life. By art Eldar learns life philosophy, comprehends love laws, endures disappointments and overcomes all miseries. Art gives the artist the non-comparable sensation of life, pleasure is a unique means of subsistence. Painting is the basic direction in the fine arts in which Eldar Babazade searches and finds his self-expression.
The surrealistic world in which the East and European images inexplicably co-exist in his paintings, nevertheless possesses strongly pronounced lines of a subjective reality of Eldar Babazade, despite it causes the certain targeted associations. By means of symbolical images and signs the artist hints at secret sense and ambiguity of all in existence on the Earth. He just slightly opens this veil and gives each spectator the chance to find his own harmony and beauty algorithm.
The artist himself not inclined to consider himself as the adherent of a certain direction in painting.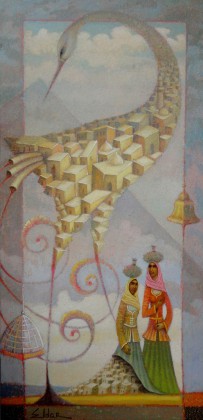 Solo exhibitions
| | |
| --- | --- |
| 2011 | Astly Gallery, Uttersberg, Sweden |
| 2001 | Absheron Gallery, Baku, Azerbaijan |
Group exhibitions
2014
"Khojaly 22", Natavan Gallery, Baku, Azerbaijan
"Colours of a wind and fire", Collection of Luciano Benetton, Italy
2013
"Dialogue of paints", Museum Centre, Baku, Azerbaijan
"3rd International Exhibition", Art Centre, Gabala, Azerbaijan
2012
"Mood", State Art Gallery, Sumgait, Azerbaijan
"The Exhibition of 40 artists", Baku Creative Centre, Baku, Azerbaijan
"The Paint of Novruz", Museum Centre, Baku, Azerbaijan
"Khojaly" Competitive Exhibition (1st place), V.Samedova Art Salon, Baku, Azerbaijan
"Exhibition of the Azerbaijani artists", National Museum of Arts, Tbilisi, Georgia
"Exhibition of the Turkic-speaking countries", Museum of Ethnography, Cholpon-Ata, Kirgizstan
2011
"White-Black", Museum Centre, Baku, Azerbaijan
2008
Galerie Berlin-Baku, Berlin, Germany
2006
"Germany through the eyes of artists", Kapellhaus, Baku, Azerbaijan
"60 years of the Union of Artists of Azerbaijan", V.Samedova Art Salon, Baku, Azerbaijan
"The Exhibition of the Azerbaijani artists", Teheran, Iran
2003
"75 years of Turkish Republic Formation", Istanbul, Turkey
>
>