ARTISTS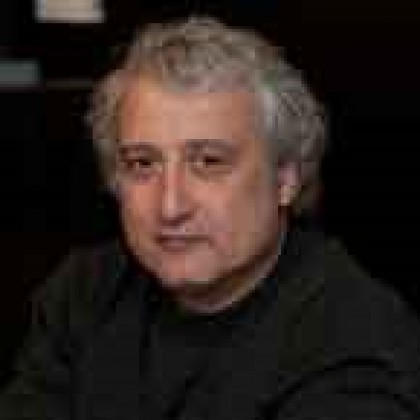 Born 1963 in Baku, Azerbaijan
Lives and works in Baku, Azerbaijan
| | |
| --- | --- |
| 1997 | member of the "Labyrinth" experimental group |
| seit 1996 | member of the Union of Artists of Azerbaijan |
| 1987 | graduated from the M.A. Aliyev State University of Art and Culture in Baku, Azerbaijan |
| 1979 | graduated from the Azimzade State Art College in Baku, Azerbaijan |
Honoured titles and awards
| | |
| --- | --- |
| 2007 | Title "Honorary Artist" of Azerbaijan |
| 2006 | Grand Prix at the International Festival of the Arts, Aqtau, Kazakhstan |
Collections
- Marmara Gallery, Istanbul, Turkey
- Russian Ministry of Culture, Moscow, Russia
- Azerbaijan Ministry of Culture, Baku, Azerbaijan
- Sanat Gallery, Baku, Azerbaijan
- Odjag Gallery, Baku, Azerbaijan
- QGallery, Baku, Azerbaijan, Azerbaijan
- National Fine Art Museum, Baku, Azerbaijan
- Museum of Modern Art, Baku, Azerbaijan
- Private collections in Azerbaijan, Russia, USA, Sweden, Germany, Great Britain, Turkey, France,
Italy, Denmark and Norway
Amirov was born into the family of the famous Azerbaijani artist Arif Amirov, a representative of the classical school of painting. The desire to become an artist was the most powerful motivating factor in his life. He works with incredible dedication, and the direction of his artistic search takes him through the multicolored world of painting.
In 1997, in a seemingly contradictory move, Amirov became a member of the "Labyrinth" experimental group, putting into practice hitherto unexplored art projects which were, however, still connected to conceptual art forms. Although Amirov participated successfully in all the experiments, he always remained faithful to painting.

Amirov's paintings radiate heat and light, and form an expressive, melodic hymn to life– they are a celebration of color, and display powerful positive energy and magnetism. His paintings are life-affirming, celebrating the joy of life, and focusing our attention on an earthly view of the world. At the same time there is neither hypertrophied conviviality nor deliberate pathos in the images.
The artist always has something to say and he knows how to express his ideas.
The impressive range of his imagination characterizes the art world of Museib Amirov.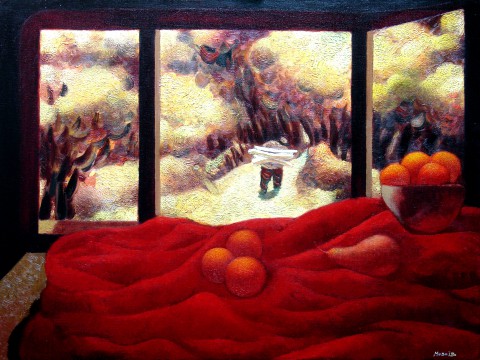 Solo Exhibitions
2011
Gomel Palace & Park Ensemble, Gomel, Belarus
Astley Gallery, Uttersberg, Sweden
2007
Galerie Berlin-Baku, Berlin, Germany
QGallery, Baku, Azerbaijan
2003
Space TV, Baku, Azerbaijan
2002
QGallery, Baku, Azerbaijan
1999
V.Samedova Gallery, Baku, Azerbaijan
1989
Baku Art Centre, Baku, Azerbaijan
Group Exhibitions (Selection)
2012
The International Art Festival "Cow Parade", Ventspils, Latvia
2011
Exhibition commemorating the Days of Culture of Azerbaijan, Art Center, Kiev, Ukraine
Contemporary Art Exhibition of Azerbaijan Artists, Paris, France
Art Exhibition of Azerbaijan Artists, Seoul, South Korea
2010
The International Art Festival "KA TU CIA DABAR DARAI?", Uzhupis, Vilnius, Lithuania
The 1st International Art Festival Maiden Tower, Baku, Azerbaijan
2008
Galerie Berlin-Baku, Berlin, Germany
2006
International Art Festival, Aqtau, Kazakhstan
2005
"Men and Women", QGallery, Baku, Azerbaijan
2004
"Baku-Paris: 20 Artists", Orangerie de Senat, Paris, France
International Contemporary Art Exposition "For Love and Peace", Istanbul, Turkey
Contemporary Artists from Azerbaijan, IMF Gallery, Washington DC, USA
2003
International Art Exhibition, Luxembourg
International Art Exhibition "Grands et Jeunes d'aujourd'hui", Espace Auteuil, Paris, France
2002
"Form-Rhythm-Color", V.Samedova Gallery, Baku, Azerbaijan
2001
Art Festival, Ulan Bator, Mongolia
Hyatt International Center, Baku, Azerbaijan
2000
"Land Art", Group Exhibitions and Projects, Azerbaijan
1999
International Art Fair "Manege '99", Moscow, Russia
"Exile from Paradise", Baku, Azerbaijan
1998
Labyrinth Group Land Art Symposium "Ecology", Baku, Azerbaijan
World Bank, Washington, USA
1997
First International Biennale of Contemporary Art, Tbilisi, Georgia
1990
Group Show, Ramco Gallery, Istanbul, Turkey
1988
Days of Azerbaijan Culture, Moscow, Russia
>
>