ARTISTS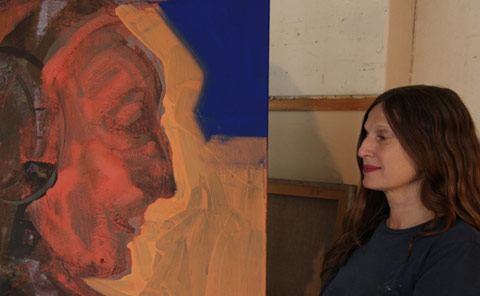 Born 1952 in Wiehe/Thuringia, Germany
Lives & works in Berlin, Germany
2011
teaching painting/ drawing at the State Academy of Fine Arts Baku, Azerbaijan
2004
project management Opendoors – Openeyes, Manifestation d'art actuel,
Bordeaux, France / Organization for the German participants
Project management for Phoenix – Berlin, Willy-Brandt-House, Berlin, Germany
2002 - 2011
teaching painting/ drawing at the University of Art, Berlin, Germany
since 2006
teaching painting/ drawing at the btk-Academy for design, Berlin, Germany
2000 - 2001
teaching painting/ drawing at the University for Applied Science (UAS) &
University Potsdam, Potsdam, Germany
1994 - 1995
teaching painting/ drawing at the UAS, Potsdam, Germany
1993 - 1994
project management Int'l Symposium Art & Politics in Aspen / USA in
cooperation with the Aspen Institute Berlin, Germany
since 1988
freelance artist
1988
master student at the University of Art, Berlin, Germany
1985 - 1988
studies of painting at the University of Art, Berlin, Germany
1979 - 1983
studies of painting at the Art University Burg Giebichenstein, Halle, Germany
1973 - 1977
cultural science studies/ German philology at the University Leipzig, Germany
Awards & Grants
2012
Granting of a honorary doctorate at the State Academy of Fine Arts, Baku, Azerbaijan
2004
1. Prize of the Mural Competition of the neighbourhood management for the
Wassertorplatz 65, Berlin - Kreuzberg, on behalf of the Federal Government
and European Union (accomplishment of the draft)
2001
Art prize of Berlin Artists Union
1995
work grant for painting of the Anderson Ranch Art Centers, Colorado, USA
1993
grant of Ministry of Culture of Brandenburg, Germany
1988
prize winner of the nationwide painting competition "Großstadtimpressionen"
of the Ministry of Labour and Social Affairs, Germany
1. Prize of the Mural Competition of MEWA – Wiesbaden and the Senate
Department for Cultural Affairs, Berlin
Collections (Selection)
-
Museum of Modern Art Baku, Azerbaijan
-
Federal Government/ acquisition for Dr. Helmut Kohl, Germany
-
Ministry for Labour & Social Affairs/ acquisition for Dr. Norbert Blüm, Germany
-
Senator for Cultural Affairs Berlin, Germany
-
Senate for Construction & Housing, Germany
-
Senate Department for urban development, Germany
-
Banks: Dresdner Bank AG Berlin, Frankfurter Hypotheken Bank, Berliner
Sparkasse, Germany
-
Public Insurance Group/ Feuersozietät, Germany
-
Aspen Institute Berlin, Germany
-
Haus und Grund Berlin, Germany
Bibliography (Selection)
-
Azerbaijan Women, 2013
-
"10 Künstlerporträts - Breakthrough", Film documentary/Norbert Wartig,
Germany & Prof. Tommy Britt, USA, 2010
-
"Künstlertreffen Berlin", Ricardo von Brasch, Prestelverlag, 2008
-
"Begegnung mit Pirosmani", Georgian-German Association, 2006
-
Documentary "Pirosmanis Tisch" hajdemedia - Filmproduction, 2006
-
Inge H. Schmidt "Köpfe", 2003
-
"layered histories", VBK, 2002
-
"Kunst am Pariser Platz", Collection Dresdner Bank, 1999
-
"Koreanische und deutsche moderne Maler", Willy-Brandt-House, 1997
-
Inge H. Schmidt "Zeichnungen, Gouachen, Aquarelle", 1996,
-
Inge H. Schmidt " Faszination Berlin", 1990
-
Many catalogues accompanying her exhibitions (solo & group)
Artist Statement
Art has something fateful for me. To devote one's life to art means for me, radicalism, obsession, the search for self-determination and independence. Even if this way is a painful and sometimes very lonely one, I'm going for it since my early childhood.
I am a painter and illustrator. The large area of the canvas is for me more challenging, each time it's an enormous strenuous effort. In drawings I'm more playful. In the last years I combine more and more painting with drawing. Figurative moves me the most. I work gestural, objective/ graphic.
The best images are created when I work intuitively, let's say "from the gut". Since 13 years my great source of inspiration are faces. I was always curious about people who have mastered a particular destiny of life, no matter where on this earth. The story behind the face I want to make visible, show the hidden.
Sure it is a search of myself.
Solo Exhibitions (Selection)
2013
"Colours of Life", Museums Center Baku, Baku, Azerbaijan
"Die Sehnsucht nach dem Frühling", Galerie Petra Lange, Berlin, Germany
2012
"Painting", State Academy of Fine, Baku, Azerbaijan
"Ab Initio und die Liturgischen Farben", Church interior installation in the Epiphanien Church, Berlin, Germany
"One of a kind", Bismarck Studios Contemporary Fine Art Gallery San Antonio
Texas, USA
2011
"Malerei", Galerie Berlin–Baku, Berlin, Germany
2009
"Mauerbrecher", Special Exhibition - 20 years Fall of the Wall, Galerie Petra Lange, Berlin, Germany
"Nullpunkt", Kommunale Galerie, Berlin, Germany
2008
"Malerei – Zeichnungen", Galerie Mostre d' Arte, San Lorenzo Poppi, Italy
"Thüringen im Gepäck II", Representation of the Federal Government, Germany
Room installation "Die Liturgischen Farben und Bildtafeln zur Bibel, neu
interpretiert", Berliner Dom, Berlin, Germany
2007
"Reisetagebuch in Bildern", Mexico, Guatemala, Cambodia, Laos, Georgia, Tuva,
Buryatia, Khakassia, Galerie Bauscher, Potsdam – Babelsberg, Germany
"Thüringen im Gepäck I", Representation of the Federal Government in Berlin, Germany
2006
"Art Lounge", Kommunale Galerie Berlin, Berlin, Germany
2005
"Malerei und Zeichnung", Interart Galerie Reich, Köln, Germany
2003
Church interior installation "Harmonie der Symmetrie", Pillar basilica St. Ulrici in
Sangerhausen, Germany
2000
"Zwischen Berlin und Babylon", Kulturforum Villa Oppenheim, Germany
"Wenn Augen regnen", Kunstverein Essenheim, Germany
1999
"Großstadt – Querulanzen", Otto - Richter - Kunsthalle Würzburg, Germany
1993
"Malerei", Galerie VBK, Berlin, Germany
1990
"Meisterschülerin", Berlin Pavilion, Berlin, Germany
1995
"Malerei", Berliner Bank, Berlin, Germany
1989
"Malerei", Galerie Peldser & Leuchter, Düsseldorf, Germany
Group Exhibitions & projects (Selection)
2014
"Künstlersein", a project of Wolfgang Korall
2013
"Von Perlmuttaugen und Felsgestein", art.ist Galerie Castrop-Rauxel, Germany
Mc Nay Art Museum San Antonio, Texas, USA
2011
Participation of Int'l Art Festival II, Baku, Azerbaijan
"Changeexchange", Berlin-Seoul, Korean Culture Center & VBK, Berlin, Germany
2010 - 2011
Exhibition project "Breakthrough" 10 Berlin Artists in 5 cities of the USA
2010
"Korrespondenz – Korrespondencja", Galerie for Modern Art Opole, Poland
International Art Project " Maiden Tower", Baku, Azerbaijan
2009
Multimedia Performances "Nullpunkt" Dance–Painting–Video projection Int'l Dance Festival Berlin, Sophiensäle & Kommunale Galerie Berlin, Berlin, Germany
2007
"Deutsche Künstler in New York", German Embassy, New York, USA
2006
Pirosmani and Contemporary Art, National Museum Tbilisi and Pirosmani Museum, Mirzaani, Georgia
2001
"Interkulturelles Projekt I", USA–Berlin, Künstlerhaus Bethanien & Berliner
Vereinsbank, Berlin, Germany
2000
"Assen–Berlin", Galerie Leo Coppi, Berlin, Germany
1999
Salon International de Paintures et Sculptures - France–Allemagne- Belgique,
Saint–Loubes, France
1998 - 1999
"Handzeichnungen und Bronzen", Fürst von Pückler Museum, Schloß Branitz –
Marstall, Cottbus/ Stadtmuseum Jena/ Schleswig-Holstein - Haus, Schwerin/ Palais Hirsch, Schwetzingen/ Schloss Mosigkau, Kulturstiftung Dessau – Wörlitz, Germany
1995
"Contrapostum", Artists from USA & Berlin, Haus am Lützowplatz, Berlin, Germany
1989
Potsdamer Platz, Staatliche Kunsthalle Berlin, Berlin, Germany
"Young German Artist", Art Center, Colorado Springs, USA
1988
"Großstadtimpressionen", Regional Council Bonn, Germany
>
>