EXHIBITIONS
Azerbaijan meets Korea in Berlin
>
Mr. Almaz Mammadov, counselor of the Embassy of the Republic of Azerbaijan and Mr. Michael Geier, former Ambassador and President of the German-Korean Association will welcome you at the opening. >
>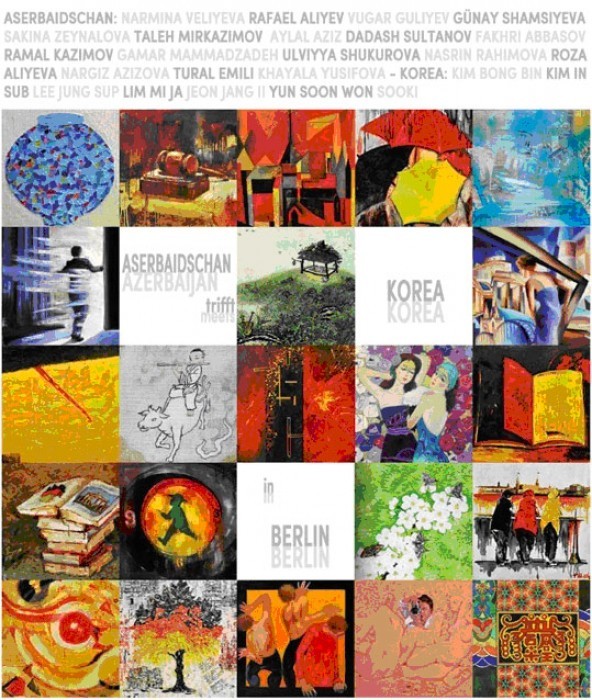 >
Azerbaijan
«Germany seen through the eyes of an artist»
Since 2008, the Embassy of the Federal Republic of Germany in Baku organizes jointly with the Academy of Arts Baku, as well as with the QGallery and the Gallery Berlin-Baku each year a competition with the theme: "Germany seen through the eyes of an artist". Students of the Azerbaijan State Academy of Fine Arts and young artists, who have never visited Germany before, are participating at this competition. The subject itself gives a wide choice, but on the other side it is compressed within the borders of a country: Germany. "How do I see this country?" "How do I imagine this country?" The preferred chosen colours are the tricolour of Germany: black, red, gold. Regardless this focus the artists are creating works, which are rich in concept and imagination.
A qualified jury selects three winners, who win a trip to Germany.
The young artists will have the opportunity to see the country with their own eyes: to visit museums and galleries, to participate in master classes of renowned German artists, to compare their fantasies of Germany with their real impressions.
17 winners from the years 2008-2013 are exhibited.


Korea
Korean Fine Arts Association (Kfaa) is a membership association of artists, established in 1961. The headquarters of the association is in Seoul and many regional organizations are spread all over the country. There are also branches abroad.
The association includes the traditional Korean painting, oil painting, sculpture, design, ceramics and calligraphy. Currently it has 29 246 members. The focus is on the traditional Korean painting, oil painting, sculpture and calligraphy. The association was formally established in order to advance the nation's fine arts, to advocate the rights and interests of artists, to facilitate international exchange of fine arts, and to promote reciprocal cooperation among artists.
Every year the Kfaa plans 17 major exhibitions. The seven exhibiting artists are not giving only an insight into the repertoire, but also take the viewer into the diversity of Korean art.
It is the first artistic encounter between Azerbaijan and Korea in Berlin.

Some of the artists are present at the opening.
>