EXHIBITIONS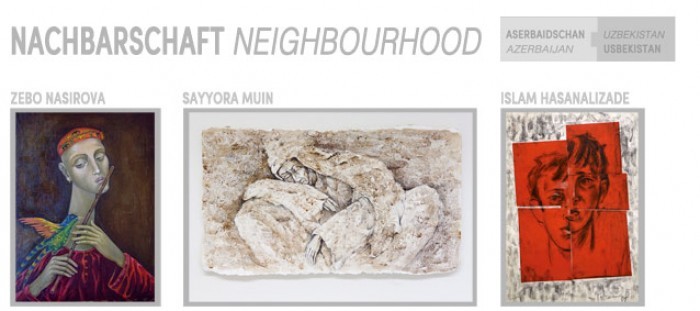 >
Sayyora Muin (Muinova), born 1977 in Tashkent / Uzbekistan, lives & works since 2003 in Berlin. Her artistic path began with an education as a costume designer and followed by studies in book illustration in Tashkent. She continued her studies at the UdK Berlin in 2003 and was in 2010/2011 a master student of Prof. Florence von Gerkan for stage costumes. In addition to several exhibitions in Germany and Uzbekistan she also worked as a costume designer in many film and theater projects in both countries. Her great passion as a costume designer is reflected in her art. Both her drawings as well as her photographs and object art are shaped by this passion.

Zebo Nasirova, born 1953 in Dushanbe / Tajikistan, lives and works for decades in Tashkent. After studying painting in Tajikistan, she went to Uzbekistan to study stage design at the University of Art and Theatre. She was also in the master class at the All-Russian State University of Cinematography (VGIK) in Moscow. Zebo Nasirova is one of the most renowned costume designers of Uzbekistan, who has participated in numerous international flm productions. Since 1979 she is participating in national and international exhibitions such as in Russia, Uzbekistan and Algeria. In Germany her pictures can be seen for the first time.

Islam Hasanalizade, born 1988 in Baku, graduated from the Azerbaijan State Academy of Art. He is one of the new young artists of Azerbaijan. Being the winner of the competition "America through my eyes" in Baku indicates a promising future. He had already quite many exhibitions, mostly in Azerbaijan, but also in Georgia and Russia. He also exhibites for the first time in Germany.

The artist Sayyora Muin is present at the opening.
>