EXHIBITIONS
Azerbaijan meets Scotland in Berlin
>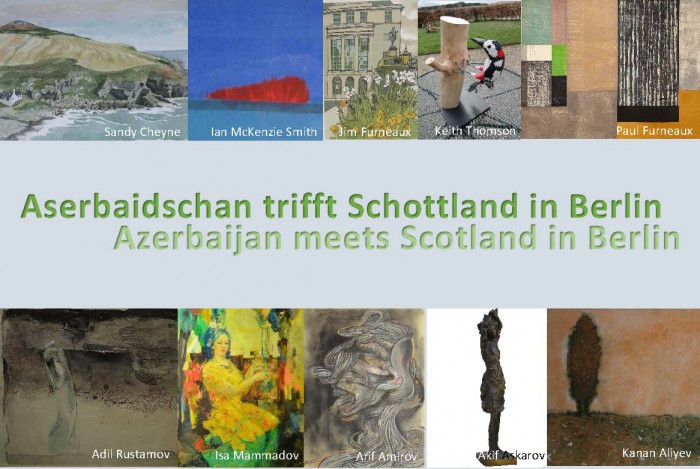 >
Scotland

Scotland is represented by five extraordinary artists from the North-East of Scotland.

Ian McKenzie Smith, an internationally renowned artist, whose work is in many public collections in Europe, North America and Japan, was awarded the OBE and CBE for his services to Art and was Director of Aberdeen Art Gallery and Museums. He is Past President of the Royal Scottish Academy and Past President of the Royal Scottish Society of Painters in Watercolour, and a former Trustee of the National Galleries of Scotland. In Paris he met the Japanese artist Kenzo Okada and encountered Zen philosophy, which has influenced his work ever since. McKenzie Smith creates images that derive ultimately from the landscape surrounding him. He depicts the essence, moving from recording what he sees to presenting a metaphor of his subject through the use of colour and form.

Sandy Cheyne has made a name for himself with his portraits, watercolours and screenprints in Scotland and abroad. He has always been fascinated by the shapes and colors of landscapes and historic buildings, of dilapidated old and new architecture. Shapes and colours form a characteristic relationship in nearly all his work.
He uses a special screen printing technique for his stylized, graphic representation, but in recent years, Sandy Cheyne's focus is again on watercolor technique.

Jimmy Furneaux, who died last year, was an Aberdeen artist and teacher, whose art showcases a wonderful visual account of the topography of Aberdeen over the past 50 years. Furneaux was most noted for painting Aberdeen's lesser-known buildings and landmarks from unusual perspectives.
His distinctive style would never create a picture postcard beauty but instead conjure up an atmosphere and encapsulate the mood of the most ordinary, often unlikely, choice of setting.

Paul Furneaux followed in his father's footsteps. He won many awards, including the Monbusho award, and from 1996–2000 he joined the Tama Art University in Tokyo/ Japan for the Master Degree in Woodcut. We are showing four painting on Japanese wood cut, these are large-scale prints for this traditional Japanese technique of printing with watercolour from cut wood. Built up in layers, the blocks are printed by hand with the aid of a hand disc called a Baren. This is an ancient form of printing brought to a high level of sophistication in Japan.

Keith Thomson creates sculptures, which – due to his own words - are a response to two factors: the ability to respond with the materials that surround us, and his move from Edinburgh to rural Aberdeenshire. As he travels through Aberdeenshire he finds himself with the time and space to constantly watch the interaction of the indigenous birds with the beautiful landscape. His acute sense of observation enables him to capture the essence and character of his subject material.



Azerbaijan

Azerbaijan is represented by five extraordinary artists from Baku.

Isa Mammadov, a much known Azerbaijan painter, member of the Union of Artists of Azerbaijan, member of UNESCO, senior teacher at the Azerbaijan State Academy of Arts, is the master of lyrical landscapes. Isa Mammadov's thinly shaded impressionistic landscapes reflect his feelings and thoughts as well as his artistic perception of environment which in his eyes gets the lines of the refined and sublime charm. The aspiration to exact fixation of a certain fragment of a landscape departs on the second plan. He recreates a certain space in which the main thing is the transfer of sensation of sounds, smells and mood of nature. Isa Mammadov "tries to show the beauty of Azerbaijan invisible to others".

Akif Askerov is one of the well-known Azerbaijani sculptors, decorating not only the cities of Azerbaijan, but also different cities throughout the world. Further he is an Honored Artist and professor of the Academy of Arts. Akif Askerov is the consecutive adherent of the realism, bases of which have been put in the days of his studies. However to achieve the expressiveness in plastic art, to transfer the dynamics, the generality of forms and emotional coloring, he sometimes resorts to sketchiness and symbolism methods. The special place in his creativity occupies the memorial sculpture devoted to human tragedy memory.

Arif Amirov, a young artist of considerable talent and son of the well-known Azerbaijani artist Museib Amirov, engages in painting, experiments the form and color and applies to various techniques, including collages. In his creativity Arif Amirov is guided by the art processes in the modern art, always revealing actual topics for his generation. By using visual images and power of color he aspires to analyze and generalize as well as touching on society problems, ecology sore problems and searching for answers to eternal questions.

Adil Rustamov is a well-known graphic artist, professor, Honored Artist of Azerbaijan and winner of many awards. His series of works devoted to outstanding poets of Azerbaijan are widely known.
Musicality and melodiousness of the lines, poetry of artistic images, the monochrome color setting a certain spirit and tonality, impregnations of florid handwriting in an interlacing of graphic and verbal forms of art define his stylistic device while revealing an originality of his handwriting.

Kanan Aliyev is a representative of the young generation of Azerbaijani artists. Besides of being a sculptor he is also engaged with graphic artwork creations. Attracted by the landscape genre he is experimenting with several techniques and the "Tree" series was born, where each tree is a character allocated with the temper, mood, and destiny. In his artwork he likes to approach eternal themes, aspiration to aesthetic interpretation of reality, appeal to humanistic and philosophical questions.
>