EXHIBITIONS
Azerbaijan meets France in Berlin
>
with Ilgar Sheydayev, Emin Askerov, Sabina Shikhlinskaya, Museib Amirov,
Clotilde Lafont-König,
Romain Burgy, Sophie Voigt-Chadeyron & Christine Kramer-Panier
>
>

>
Azerbaijan

Museib Amirov's paintings radiate heat and light, and form an expressive, melodic hymn to life – they are a celebration of color and display powerful positive energy and magnetism. His paintings are life-affirming, praising the joy of life, and focusing our attention on an earthly view of the world. At the same time there is neither hypertrophied conviviality nor deliberate pathos in the images.

Ilgar Sheydayev surprises with richness of detail and stylistic originality. In addition to his classic oil paintings and busts, Ilgar Sheydayev is meanwhile mainly experimenting with visual media, architectural looking design objects and seemingly unconventional materials such as scrap metal. Many of his sculptures let mental conditions become tangible, marked by melancholy and vulnerability.

Emin Askerov conceptual art ties neither the space nor the time, it's abstracted from the ideological and deliberate straightness. The figures in his paintings maintain a peaceful balance in an unreal space, often hung frozen in the air, divided and appearing like a mathematical division. An invisible line or wall that separates the spiritual world from the rational world. They are intended to be thought-provoking.

Sabina Shikhlinskaya well known with her early modernistic paintings, she transitioned in the 90s to conceptual contemporary art. Exploring multimedia practices by using her cross cultural background to create artwork, including complex relationships between culture, politics and identity. Few of her paintings can be seen with expressiveness of color and forms combining symbolic elements.

France

Christine Kramer-Panier forms with an ironic view at human beings, humorous, cheerful and colored figures. A closer look shows also her profound humor. Christine Kramer-Panier would like to address to the people, who stand in front of her creatures, to make them smile benignly and the idea to get them laughing on a daily basis through her artwork gives her deep satisfaction.

In the artwork of Clotilde Lafont-König painting, object art, collage and textile art becomes a polyglot language compendium, interweaved into a true and extremely concise treasure of forms. The result is a self-contained universe of creation. Each single instrument mirrors a facet of concentration, simplicity and complexity of a motive cosmos. The Asian approach can be seen in many artwork of the artist as well as the meaningful pencil.

Romain Burgy's paintings show living-worlds of all social classes and people in their daily lives, but there is always a hidden criticism. Nonetheless most of his artwork is full of life and immersed in an intensively luminous blue next to many other bright colours - but the colour blue has become his trademark, as well as the flying lemon, which has to be discovered in each of his paintings.

Sophie Voigt-Chadeyron loves word, shape and colour games since her childhood. For her everything is endless "combinable", she goes again and again to new spiritual, colourful, mostly joyous journeys of discovery, shows snapshots of a particular situation but also portraits of our current society. Main theme is usually the human being in all his/her facets, sometimes in the foreground and sometimes just a little blurred in the background.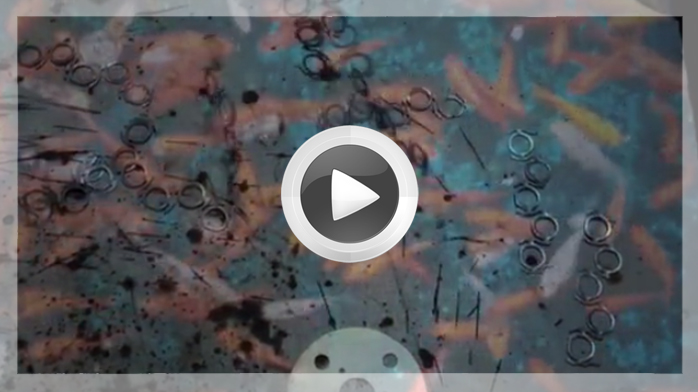 >
© 2018 Galerie Berlin Baku All rights reserved |
Imprint