EXHIBITIONS
Asian Pacifik Weeks - smArt cities
>
with artists from Germany, Korea & two additional artists from Azerbaijan (Günay Shamsi & Ilgar Sheydayev)
>
>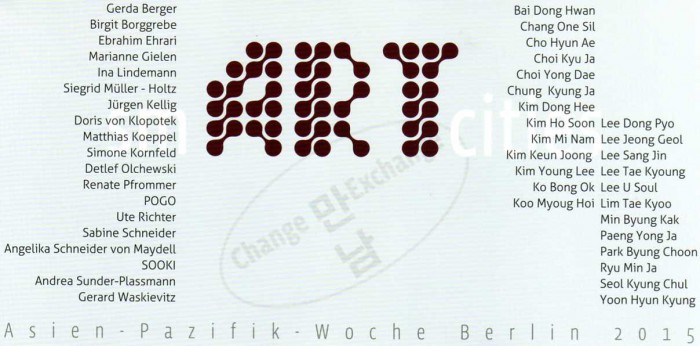 >
Since 1997, the Asia-Pacific Weeks (APW) are hold every two years in Berlin. For the dialogue between Europe and Asia-Pacific as the world's largest economy, the APW partners from business, science, politics, culture and society offer a unique information and meeting platform in Europe. The comprehensive program with conferences, symposia and exhibitions was created country-specific up to 2007 and since then is dedicated to keep current and globally significant issues and trends.
This year the main focus is again on
"Smart Cities"
.
The development of large cities is for our future of global importance. By 2030, 80% of people in developed countries will live in cities, in developing countries it will be about 50%.
Making cities more attractive through intelligent networked management for citizens and the economy, is gaining in the timeliness and controversy worldwide. Pressing problems of urban infrastructure - transport, energy and water, urban planning, waste management - showing up in European and Asian cities, although in varying degrees of complexity and dimension, but the basic issues of possible intelligent use of the potential urban are alike. Partnership dialogue and cooperation are therefore indispensable to address the challenges and designing livable cities.
The
ChangeExchange
project headed by Sooki Koeppel exchanges since 2011 artistically with Korea. Alternately (Berlin / Seoul) an exhibition is hold with about 44 artists (50% from Korea and 50% from Germany). This year is again Berlin's turn and ChangeExchange has thus participated in the Asia-Pacific Weeks. Here, the main focus is modified in
"smART cities"
. 46 artists from Korea and Germany are showing their artwork on smart cities at the Galerie Berlin-Baku and at the Korean Cultural Center.
More info can be found on
www.apwberlin/en/
and
map
with all participants

>
© 2018 Galerie Berlin Baku All rights reserved |
Imprint