EXHIBITIONS
Trash to Treasure (Bob Silva)
>
with Khalil Chishtee
Finissage at 13th of May 2015 with a reading of Farani Sheikh's poems
>
>

>
Trash to Treasure (Bob Silva)

Khalil Chishtee

Archetypal dream patterns, universal cycles of time, and processes of life, have been recurring themes in the sculptures of the New York artist Khalil Chishtee. While the imagery he employs in his work is all drawn from contemporary life, he wants to deal with the essence of the nature of the social situation. It is the invisible world of all the details of people's personal lives – their desires, conflicts, motivations – that is hidden from our view and creates the intricate and seemingly infinite web of shifting relations that meets the eye.

Life-size figures in human shape or half figure will be on display, made of nothing different than the universally known plastic bags. Accordingly, he uses trash bags from Brooklyn, where he lives and works, and trash bags from Berlin, the place of the show. His artwork shows ubiquitous trash bags in the most unlikely forms and shapes. Khalil Chishtee succeed, despite the rather strong but lightweight material to create sculptural shapes with precision and attention to detail. His creations are easily and fluently and at the same time very intense. They remind us of our physical and emotional vulnerability with a penetrating sensitivity of the human condition.

Khalil Chishtee was born in 1964 in Pakistan, he taught at the National College of Arts in Lahore before he immigrated to the United States 12 years ago. Now he lives and works in both Brooklyn and in Lahore. His people, as he calls his figures were exhibited in Paris, London, New York, Hong Kong, Lahore, Karachi, Mumbai, Delhi and Singapore. Lastly his artwork was seen at the "Here Today" show in London, organized by the IUCN. Next his artwork will not be seen only at the Galerie Berlin-Baku, but also at the 56th Biennale Venice 2015 l Azerbaijan Pavilion l Vita Vitale curated by Artwise.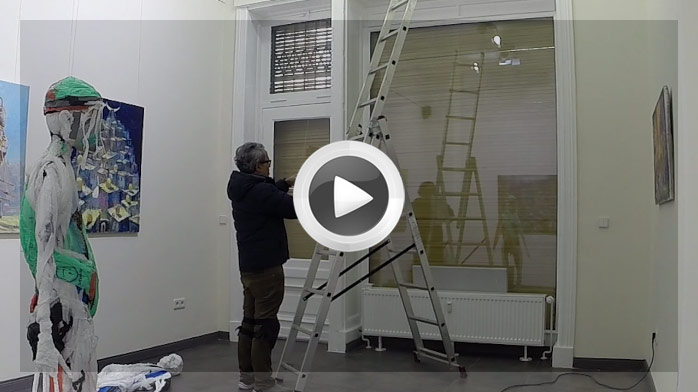 >
© 2018 Galerie Berlin Baku All rights reserved |
Imprint